Czech Senior Open
Welcome to official site of Czech Senior Open Tournament. We hope you find everything, you are looking for. If you need more info, please click on Contact Us and send us message.
News:
Cancelation of the tournament
Hello senior bowling friends,
due to players´ very little interest to participate in CSO 2010 / Prague (15 -19 September)
I´m very sorry to inform you about the tournament being canceled.Hope to see you again at some other stop of the EBPA tour.
Zdenek Navratil - tournament manager.
Vzhledem k velmi malému počtu přihlášených hráčů bylo nutno zrušit turnaj Czech senior open na Zličíně v termínu 15 -19 září . Omlouvám se všem českým hráčům a hráčkám, kteří byli na turnaj přihlášeni. Valná hromada /s informací o ME 2011 v Haifě-Izrael/ ESBC CZ bude koncem srpna, nebo začátkem září 2010. O termínu budete včas informováni na stránkách    www. esbc.cz    a e- mailem.Na uvedených stránkách je též ke stažení formulář přihlášky do ESBC CZ o.s.+ stanovy .
Zájemci o členství v ESBC CZ pošlete prosím vyplněnou přihlášku na adresu: ESBC CZ Praha 3 Přemyslovská 29,PSČ 13000
Za ESBC CZ Zdeněk Navrátil
from 19.08.2010 22:32
Czech Senior Open - Hotel info
The reservated hotels (15 – 20 September) having very good references are: "Hotel Fortuna west" , Prague 17,Mrkvickova 2 (the nearest ever hotel to the bowling)  close to the Prague international airport. Available at the www.hotelfortunawestprague.com  (159 standard rooms, parking, Wi-fi etc.) Rates: 50€ /double bed/night 10(15) % discont when staying 3 (4)nights,
Another available destination- "Hotel Musketyr" Prague 1,Mezibranska 13,  located close to the
city center having a good connection with the bowling by the
subway.This hotel offers a garden restaurant and a nice view over
the city from some rooms and the terrace at the top. Available at
the web:www.musketyr.com  
Rates: standard rooms - 1700 CZK (65 €) for double room/br.incl.
 superior 2700 CZK(104€) with a nice wiew over the city.Tournament rates also available.
This hotel has got a limited parking oportunities, so it is available for the people coming by plane only.
If you want to stay at these hotels, send your requests kindly to me to make your reservation , or book  it yourself. You can choose another desired destination as well. If needed, contact me for assistance or help.
from 24.07.2010 13:02
Czech Senior Open 2010 in Prague
Dear participants,ladies and gentlemen, guests and fans,
We would like to invite you to the Czech Senior Open , 15 – 19 September 2010. This time the event takes place in Prague/ Best Bowling centre again as a part of EBPA tour. According to the standing position you get points to pass trough for the final event of the ABPA series.Tournament category: single mixed with extra prizes for best 3  women.Total prize money –almost 8500 €. Visit Prague,deal some money and have funn.
The Organizer and guarantee of the tournament : ESBC CZ  o.s., production and computing services: Silver Line production (Karel Kutina).
Every participant will play 12 qualifying  games divided in two series of 6.(You have to make registration in two different squads!!) You also can make registration for 6 extra reentry games.Best 21 + 3 from desperado playing semifinal 6 games from scratch. Best 8 playing steppleader finals.
Entry fee: (6+6 games)110,- € /reentry: 50,-€/ desperado 25,-€
Hadicaps: players over 55 get 1 point extra /year/game, ladies  8 extra points incl. finals.
Rules for ties: 1/ Semifinal cut(21 position) – best game scored, second best etc.
2/finals/desperado - players play one frame each until the tie is broken.
To enter the tournament, click on the online registration in the left menu.Don´t hesitate and make your registration  as soon as possible. Early entry (till 31 July) = desperado for free!!!!
Friday and Saturday reserved for the foreigners, please!!!
Hotels and other useful info will follow …
If you need any assistance or help, please contact the organizer.
from 17.07.2010 15:07
2.nd Czech Senior Open
EPBA TOUR stop PRAGUE 15th –19th September 2010 - online start list you´ll find HERE 
from 14.07.2010 09:11
Wimmer Hermann win Czech Senior Open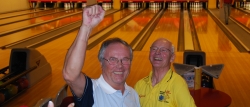 Hermann Wimmer (Germany) won the Czech Senior Open beating Gert Gropler (Germany) 2:0. Chris Van Damme from Belgium finished third. Complete results you can find on the results section - left side.
The photos from tournament will be on disposal on Monday. Thank for you were coming and hope to see you next year.
from 27.09.2008 15:17
Desperado squad
Desperado is over - to semifinal go these players :
Boelens Jan /The Nederlands/ - 259
Schollen Gunter /Belgium/ - 254
Benvenuti Gabriele /Italy/ - 248
from 26.09.2008 23:08
Qulification has finished
Qualification is over now. Olle Svensson with 222,6 plus 2 hendicap is the last one going to the semifinals. Desperado is playing now and tomorrow 21 players from qualification and 3 players from Desperrado will play the last part of the tournament.
from 26.09.2008 23:07
Results after second day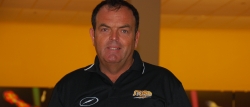 After second day we have a new leader - Chris Van Damme played the average 259.
from 25.09.2008 23:47
First Perfect Game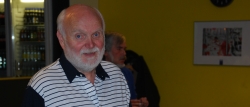 We saw the first Perfect Game 300 - Anseth Geir from Norway
from 25.09.2008 18:05
Results after first day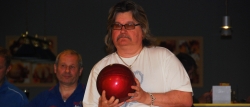 1.st Czech Senior Open has been started, first playing day is over. First place occupaied by JUKKA JULIN / Findland with 236.8 average after 12 qualification games.
results after each squad you´ll find on Results section
from 25.09.2008 16:03
Special cultural offer
Dear bowling friends, Czech Senior Open participants & guests,
Let me to call your attention to folowing info:
During your Prague visit you can ( beside of other possible activities) go to the Prague State Opera (the opera house is located close to the National Museum -Metro A line)   not far from Hotel Musketyr. There are folowing performances on the programm :
23/9 Tuesday 19:00 –Swan lake /P.I Tchaikowski/
24/9 Wednesday 19:00 - Cosi Fan Tutte /W.A.Mozart/
25/9 Thursday19:00 - TOSCA /G.Puccini/
26/9 Friday 19:00   - RIGOLETTO/ G.Verdi/
27/9 Saturday 19:00 - THE MAGIC FLUTE / W.A.Mozart/
28/9 Sunday 19:00 - TURANDOT /G.Puccini/
In case you need my assistance, please contact me :
navratilz@volny.cz
;                               tel: +420 602466611
I wish you a nice staying and good luck !!! 
Zdenek Navratil- tournament manager
from 21.09.2008 21:27
Hot news - doubles category
Dear bowling friends,
On behalf of the organizer I bring the hot news to you. The tournament starts on Wednesday at 14:00 with the squad no. 3. The foregoing ones were canceled.
If there will be enough of participants interested (minimum 15) you can play even the doubles category. Every double will be accepted (men, women even mixed). The total handicap of the double is the summ of individual handicaps of both players.
The application for doubles must be done when first player of the double make his(her) presentation for the tournament .
Entry for doubles is 30 € for player, (total 60 for double) The result for double is the total pinfall of the 12 qualfication games + handicap.
The best doubles will be awarded folowing way:
              1t place …..300 €
              2nd place ….200€
              3rd place ….100€
In case of cancelation doubles you get your entry fee back.
I hope to see you soon in Prague . Zdenek Navratil –tournament manager
from 20.09.2008 23:41
New accommodation opportunity
 New accommodation opportunity for the tournament participants & guests !!!!
Booking and more info : rezervace@hotel-golf.cz
 The nearest ever destination to the Best bowling centre:
more info on the websites  www.hotel-golf.cz
The rates : single bed ….800,-CZK/ night
double bed…1200,- CZK/ night
triple bed ….1350,- CZK / night inc. Breakfest, VAT ant taxes, Parking on disposal.
from 04.09.2008 22:38
Special accomondation rates
Dear tournaments participants and guests.
The latest ever special tournament rates for you - hotel Musketyr - for informations click HERE
from 12.08.2008 17:08
Add to new squads
New squad 12 - on Thursday from 20:00
New squad 13 - on Friday from 20:00 - for registration click to on-line reservation
from 04.08.2008 17:32